2017 Navy Crew Alumni Reunion and Spring Kickoff Banquet
We are pleased to announce our fourth annual Navy Crew Alumni Reunion and Spring Kickoff Banquet on Saturday, March 4th, 2017. Last year we had over 200 guests attend and we expect another great crowd this year. Please join our special guest speaker, VADM Robert S. Harward '79, USN ret., in welcoming our First Class Heavyweight, Lightweight, and Women rowers into the ranks of alumni.
​
Admiral Harward was a four-year lightweight rower at Navy, who graduated in the Class of 1979. After qualifying as a surface warfare officer aboard the destroyer USS Scott (DDG 995), Harward transferred to the Naval Special Warfare Community, where he was the "Honor Man" of the BUD/S class 128. Born in Newport, Rhode Island, Harward grew up in a Navy family and graduated from the Tehran American High School in Iran. Some of his many distinguished assignments were: Deputy Commander U.S. Central Command, Commander of Combined Joint Interagency Task Force, Deputy Commander of U.S. Joint Forces Command and a tour in the Executive Office of the President at the White House as director of Strategy and Policy for the office of Combating Terrorism.
2017 Banquet Information

When: Saturday, March 4th, 2017
Where: VADM William Lawrence Banquet Facility at the Navy Marine Corps. Memorial Stadium
Time: 6:00 PM Cocktails, 7:00 PM Dinner
Cost: $100 per person, price increases after February 20th
Dress: Service Dress Blue, Marine Equivalent, Civilian Informal (Letter Sweaters and Henley Blazers encouraged)
Registration Closed (Banquet at Full Capacity)
---
Plebes Challenge Alumni to a 500m Race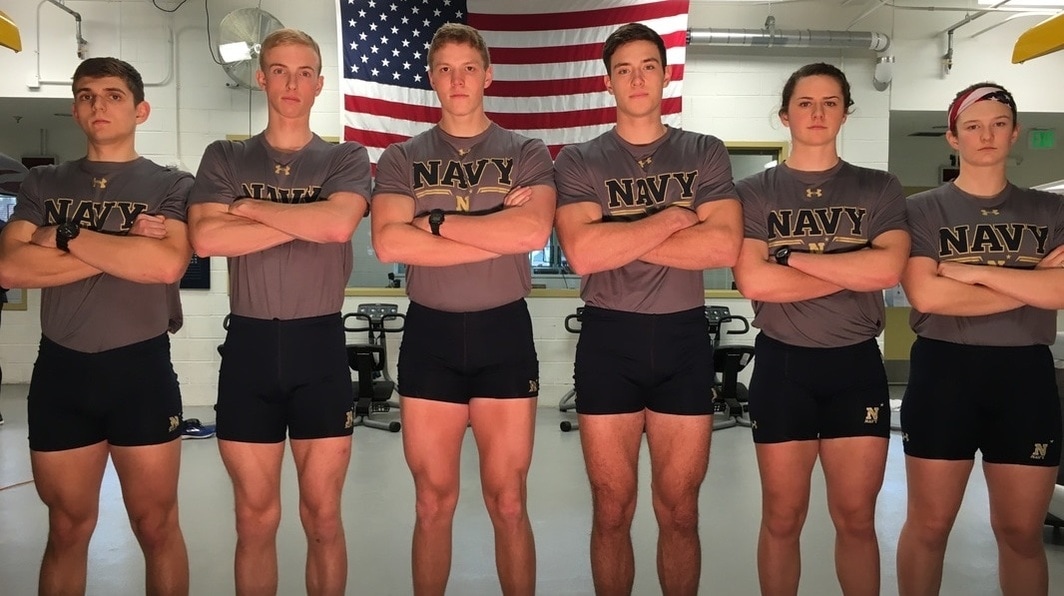 The Class of 2020 challenge any brave alumni to a 500-meter Henley style race in College Creek before the Alumni Banquet on
Saturday, March 4th
. Show up at Hubbard Hall at
1pm
to compete or watch the event.
Plebes from each of our three programs (Heavyweight, Lightweight and Women) will put together boats to race the alumni. Alumni can put together a line-up of their own or show up and throw together boats to face the plebe challengers. The Navy coaching staff will take family and friends out to the creek to watch the showdown.
LT Matt Fluhr '12, 2012 Heavyweight Team Captain, accepted the challenge and is calling on other alumni to help defeat the plebes.
Join us for this highly-contested event and stay for the Navy Crew Alumni Banquet later that evening (Banquet and Registration information below). Please sign up for the banquet by
February 20th
for the $100 price, before it increases to $115.
Plebe challengers from the picture above (listed from left to right):
Noah Chaskin (Lwt '20): Schenectady, NY; Niskayuna HS
Kaden Dohm (Lwt '20): Maple Grove, MN; Wayzata HS
Andrew Knoll (Hwt '20): Greenback, TN; East Tennessee Rowing Club
John Lamb (Hwt '20): Hong Kong; Kent School
Ashlyn Dawson (Wom '20): Annapolis, MD; Annapolis Junior Rowing/Kent School
Grace Lawrence (Wom '20): Haverford, PA; Holderness School
---
Fourth Annual Spring Alumni Banquet: Join VADM Harward in celebrating our First Class rowers on the eve of their last racing season.
CAPT Taeusch's Lost Letter: Read about the 1951 IRA Regatta and "the worst Navy disaster since Pearl Harbor".
Team Captain's Interviews: Learn about the three Navy Crew captains and their outlooks for the spring season.
1/C Service Selection: Find out service selection of all our graduating 1/C midshipmen.
Commemorative Locker Program Update: 14 lockers sold so far ($35,000) with several more pending!
Navy Boathouse Triathlon and Team Updates: Learn who won the Boathouse Triathlon (pictured on left) and what our teams are doing for winter training.
Spring Racing Schedules: Find out where and when Navy Crew will be racing this season!
---